A ceramic bust of a Windy City mobster stares from behind the candlelit bar at Aldente Cafe and Lounge. His hollow gaze is cast in the direction of a black-and-white photograph of himself stirring a pot of sauce. Below the likeness of the late
Jackie "the Lackey" Cerone
, rows of bottles stamped with Iron City Beer's red label glisten in a cooler.
The connection between the beer and the bust might seem obscure, but the link is Jack P. Cerone, 66, of Des Plaines, Ill., the publicity-shy mobster's son. His family owns the Lincoln Park restaurant and he might soon own a major stake in the bankrupt
Pittsburgh Brewing Co
.
By all accounts
, Jack P. Cerone is not a member of La Cosa Nostra. Some critics, however, contend he has done little to distance himself from the fearsome reputation his father earned as a protege of
Anthony "Big Tuna" Accardo
, one of the powerful bosses of the Chicago Outfit in the 1950s.
Jackie "the Lackey" Cerone ran the Chicagoland mob in the late 1960s, six steps removed from the immortal
Al Capone
. His term ended in 1986 when he was sentenced to 28 years in prison for his role in skimming more than $2 million from Las Vegas casinos. The scam was the basis for the blockbuster motion picture "
Casino
."
"His father's name would still carry weight in Chicago," said John Flood, a former Chicago-area law enforcement official and organized crime expert. "Everybody knew Jackie Cerone. He was a big-time Chicago mobster."
Jack P. Cerone denied repeated attempts to be interviewed for this article. Pittsburgh Brewing President Joseph R. Piccirilli has said he hired Cerone in the late 1990s to negotiate a labor contract, but he has declined to detail their relationship. "He heard of him because he's a labor lawyer? Maybe," said Jim Wagner, president of the
Chicago Crime Commission
. "But he probably more heard of him because of his father and the mob connection."
Stake in Iron City
Details about Jack P
. Cerone's transformation from labor lawyer to financial stakeholder in the brewery are emerging in Pittsburgh Brewing's ongoing bankruptcy. Court records show Jack P. Cerone holds the lucrative trademark rights to Iron City, IC Light and Augustiner brands as well as minority ownership in the company.
Jack P. Cerone's financial involvement began three years ago, when he paid $1.5 million to purchase two brewery loans worth about $6 million. Collateral on the loans included 20 percent ownership in Pittsburgh Brewing and the trademark rights. But his stake in the 145-year-old Lawrenceville brewery could increase substantially. The company filed a recovery plan last week that could increase Jack P. Cerone's ownership stake to 40 percent and his claim against Pittsburgh Brewing to $8 million.
Brewing in Greater Pittsburgh (Images of America)
.
The brewery now must persuade its creditors and U.S. Bankruptcy Judge M. Bruce McCullough to accept the plan for Jack P. Cerone to maximize his investment
. "The company would have to succeed with the current ownership in place for him to get all of his money," said George Sharkey, business agent for the International Union of Electrical Workers of America Local 144b, which represents Pittsburgh Brewing's bottlers.
Should the brewery fail, Jack P. Cerone might be in position to sell the brands to recoup his money. The value of the three flagship brews has been bandied about between $3 million and $4 million, said attorney Michael Healey, who represents Pittsburgh Brewery's unions. He said he is not aware of any formal appraisal of the trademark rights. Selling trademarks is an option, said Carol Horton Tremblay, an economics professor at Oregon State University and co-author of "
The U.S. Brewing Industry: Data and Economic Analysis
."
In May, Anheuser-Busch Cos. bought the rights to brew Rolling Rock beer for $82 million. The pride of Latrobe, Westmoreland County, is now brewed in New Jersey. "But Pittsburgh Brewing Co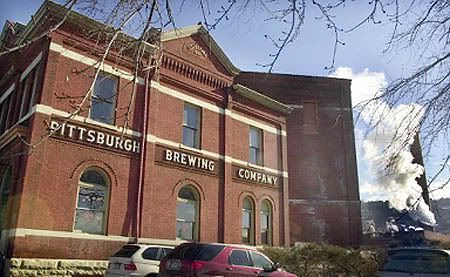 . today isn't even Pittsburgh Brewing Co.." of old, said Robert S. Weinberg, 79, a St. Louis-based beer industry consultant, "much less a Latrobe. ... There's always a renaissance, but I think there's a point beyond which brands can be resurrected -- and I think they're beyond that."
Kenneth Elzinga, a University of Virginia economics professor and beer industry expert, agreed. "The odds for the economic redemption of a medium-size, regional brewery producing a mainstream lager beer are not good," Elzinga said. "Most brewing firms in the United States that survive or prosper are either very large, and can exploit economies of scale, or small, and can tap into the market for special tastes and preferences. Pittsburgh Brewing is not well positioned to do either."
A private family man
While his involvement in Pittsburgh Brewing has raised Jack P. Cerone's public profile, he apparently prefers to stay out of the limelight. He graduated from Illinois Benedictine College in Lisle, Ill., then earned a law degree from DePaul University in Chicago in 1964. He joined the Chicago Bar Association in 1965 and once served as president of the Justinian Society of Lawyers of Illinois, a Chicago-based association of Italian-American attorneys.
Friends and colleagues refused to comment.
Jack P. Cerone and his wife, Judy, have five children.
Daughter Jill C. Marisie, a Republican, is running uncontested in November for a Cook County, Ill., circuit judgeship. She was admitted to the Illinois bar in 1990 and has worked as a state prosecutor.
Son Jack runs two restaurants in Chicago -- the Rat Pack-themed
II Jack's
, named after father and son, and Aldente, which is replete with large photos plucked from the family album. The late Jackie Cerone is included in many of the oversized, black-and-white images -- either cooking or posing with family and friends.
Some people consider Jack P. Cerone as the real owner of the restaurants, which he has called "his" when inviting people to dine there.
In August, eight employees of a former Frank Sinatra tribute music venue, Rizzo's Live in downtown Chicago, filed a lawsuit that claimed Jack P. Cerone owes them almost $100,000 in back wages. The federal lawsuit claims he was the sole financier and controlled the business -- even though he is not listed on paper as the club owner.
The Chicago Sun-Times reported notable visitors of the popular Chicago nightspot included Dean Martin's daughter, Gail, and Federico Castelluccio, who played hit-man Furio Giunta on "The Sopranos."
"I don't know of any information received that put him in business with any (mobsters) here in Chicago, other than associating with his father and friends of his father," said Wagner, of the Crime Commission. "But there's a difference between just associating and trading off the reputation -- and I think for a while that's what he was doing."
Jack P. Cerone will not publicly discuss his father. His only published comments came in a newspaper article following Jackie Cerone's death in 1996 -- six days after being released from federal prison in Florida due to bad health. "He was a gambler, a bookmaker all his life and he ran a tavern," Jack P. Cerone told the Chicago Tribune. "He loved to be around people. He was my best friend. Whatever he did he did and kept that to himself."
Fighting for unions
Jack P. Cerone earned a reputation as a labor lawyer, fighting for union workers in numerous contract fights with Chicago city officials -- from the 1980s when he fought for Laborer garbage collectors and seasonal street cleaners to the late 1990s when he salvaged victory for the Decorators Union in a trade show row.
When Piccirilli brought him in, even union representatives said his presence helped. "He certainly knows more about the bargaining process than Joe Piccirilli, and that's no shot at Joe," said Ken Ream, international representative of the International Union of Electrical Workers.
Ream and others describe Jack P. Cerone as professional but tough. "You can tell he's been around the negotiation table before," said Sharkey, the union business agent. "He's worked both sides of the fence. He's worked for the unions, for companies and as an arbitrator."
Cutting ties
A 1986 report by the President's Commission on Organized Crime identified Jack P. Cerone as one of three sons of well-known mobsters working for Laborers-International Local 8 in Chicago. "You're talking about the old Chicago mob and their sons," said former FBI Special Agent Peter J. Wacks, who investigated the Chicago mob for 30 years and helped convict the late Jackie Cerone. "They all end up working for the same union. Doesn't that seem odd?"
Court-ordered sanctions forced labor unions to cut ties with people connected to organized crime. One casualty was Jack P. Cerone, who had business dealings with Teamsters and Laborers unions. His company, Marble Insurance Agency, lost union contracts in 1993 because of his ties to organized crime, according to a 2004 Teamsters report.
In 1995, Jack P. Cerone, saying he was not a mobster, filed a federal lawsuit claiming he'd been improperly severed from his business relationships. A district court judge rejected the claim a year later, saying Jack P. Cerone "knowingly associated with his father." The court said the union's actions "were not only appropriate, but were mandated by (an) obligation ... to rid itself of the corruption influence of organized crime," the report stated. "There's no release from that," said Wagner of the Crime Commission. "It's a permanent ban." But Jack P. Cerone's associations with organized crime figures weren't limited to his father, investigators say. Wagner said Jack P. Cerone socialized with mobsters. Wacks, of the FBI, said surveillance showed Jack P. Cerone arranging and sometimes attending meetings with "made men and top guys."
Members of the Chicago mob met at the Brookwood Country Club. According to an affidavit of a former FBI agent, some of these meetings involved the late Jackie Cerone.
At one time, the country club was owned -- in part -- by Jack P. Cerone. A jury in 1989 ordered DuPage County officials to pay Jack P. Cerone and other owners more than $10 million for the 116-acre golf course and driving range. The county took the property through condemnation because nearly a quarter of it was flood plain.
Until Jack P. Cerone's name surfaced this year in connection with the Pittsburgh Brewing bankruptcy, Chicago investigators said they hadn't heard his name in years. "His profile here has been very, very low key," Wagner said, "perhaps by choice."
Thanks to
Jason Cato