Al Capone
, sometimes known as 'Scarface,' was an American gangster and businessman who attained notoriety during the Prohibition era. He was co-founder and boss of the Chicago Outfit. His seven-year reign as crime boss ended when he was 33.
In 1986, "The Mystery of Al Capone's Vaults" was a two-hour television special. It was broadcast April 21, 1986, hosted by Geraldo Rivera. The much-anticipated event turned out to be an anticlimactic and legendary flop. After almost two hours of teasing viewers, Rivera opened the vault to reveal … nothing!
Nevertheless, South Florida is still filled with Al Capone legend and lore. The Miami mansion where he died is easily located via any search engine. Almost every restaurant and bar established in Capone's time seems to have a story about how "Al Capone drank here." But Capone's reputed riverside hideout in Fort Lauderdale remains more of a mystery.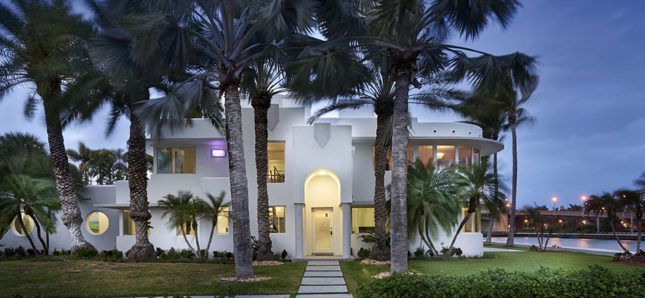 The only mention of this Fort Lauderdale house we could find was in a 2014 PBS special entitled "
Al Capone: Icon
.
" Whether or not Al Capone used this home as a hideaway remains to be seen.
It was a very interesting home that was a joy to design," says Interior Designer Perla Lichi. "We began our remodel by selecting white background materials. We wanted white walls and specified reflective white ceilings and shiny white floors that would make the rooms appear larger than they are and with higher ceilings. White was also the perfect background for hanging the client's modern artwork.
"We added a feature wall in a backlit, wall-to-wall mural. The faux turquoise and onyx mural—one of my specialties—establishes a color palette that flows throughout the home: living room, family room, master bedroom, and kitchen. Custom LED lighting in a random geometric pattern within reflective white ceilings visually connects the living room, dining room, and family room." A white counter that extends almost the full length of the kitchen is the perfect casual dining area. Grey ceramic mosaic tile with silver accents creates a perfect kitchen backsplash. This same tile is repeated under the long counter, where four white leather stools make it easy for family and guests to join the conversation when someone is cooking. Windows along the front of the house allow water views from every room that faces the river. One can just imagine Capone's boat pulling up to unload a shipment of bootleg whisky!
This vintage Fort Lauderdale classic style house and rumored hideout of legendary gangster Al Capone was recently remodeled by Perla Lichi Design. The new interiors feature a fusion of modern styling. Perla Lichi is a Florida licensed interior designer with offices in Coral Springs, Florida.