Followers of
President Donald Trump
's personal Twitter feed know him as a frequent critic of the U.S. Justice Department. Although his favorite targets remain special counsel Robert Mueller and
Attorney General Jeff Sessions
, lately the president has pushed another, rather unknown name into his crosshairs:
Bruce Ohr
.
Here, we've saved you a lot of Googling.
Who is Bruce Ohr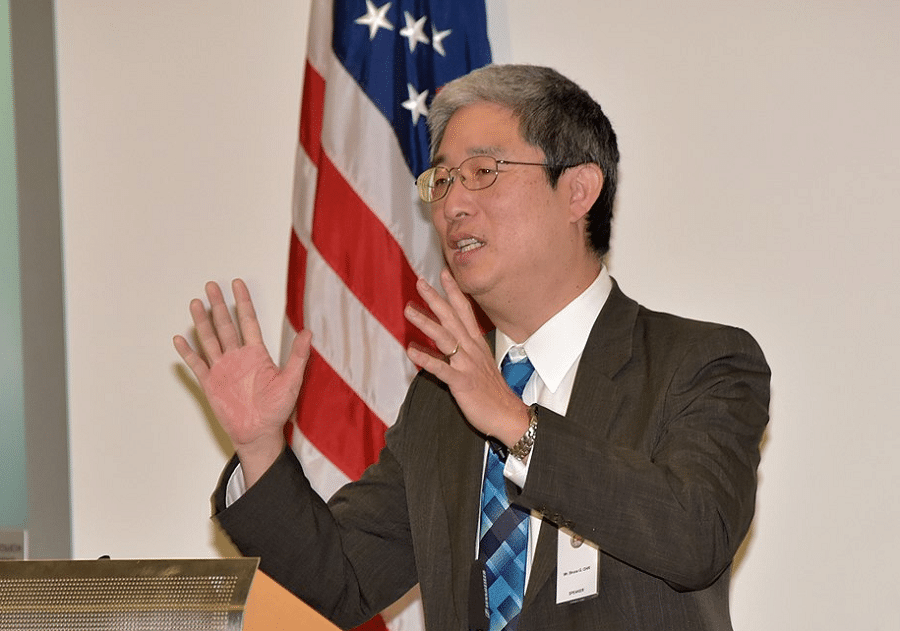 ?
Ohr has been with the Department of Justice (or "Justice" Department, as per the president) for nearly three decades. He started as a prosecutor in New York before transferring to Washington, D.C., where he was eventually named associate deputy attorney general.
His focus is international organized crime ― particularly
Russian organized crime
. Colleagues and family members told The New York Times he has an upstanding reputation as "a scrupulous government official." CNN reported that Ohr was viewed as "a consummate government servant."
In certain posts, Trump called him a "creep" and a "disgrace."
Ohr was demoted in December 2017. In a statement provided to Fox News at the time, a Justice Department official suggested he was doing too much ― "wear[ing] two hats" ― and the new role will allow him to focus back on organized crime.
Is that all?
Not quite. Ohr knows Christopher Steele, the former British spy who authored the Trump dossier, because Steele once worked for the FBI as a "confidential human source" over an unspecified time. (The agency kept the receipts.) Ohr communicated with him as a Justice Department official.
When Steele shared information with Mother Jones magazine shortly before the 2016 election, reportedly out of frustration, the FBI stopped using him as a source. But Ohr continued to talk to him and pass his information along to the FBI, even though he wasn't officially involved with any investigation pertaining to Trump.
The so-called Nunes memo ― a much-hyped document authored by Rep. Devin Nunes (R-Calif.) ― claims Steele told Ohr he really, really did not want Trump elected president.
Additionally, Ohr is married to Nellie Ohr, who formerly worked for Fusion GPS, the company that used funding from Democrats to compile a dossier containing several appalling claims about Trump. He didn't initially tell Justice Department leadership about the scope of his wife's work or his continued interactions with Steele.
Why does this matter?
Thanks to his wife and to Steele, Ohr is loosely connected to the Russia investigation. For that he has found himself at the center of a theorized anti-Trump conspiracy. (Phrases such as "RIGGED!," "WITCH HUNT!" and "Fake Dossier" tend to materialize in the president's complaints about him on Twitter.)
On Tuesday, Republicans in the House brought him in for a closed-door interview about his contacts with Steele. He was also questioned by the Senate Intelligence Committee in December 2017.
To the right, Ohr's behavior taints the Russia investigation into possible coordination between that nation and Trump's campaign. But the idea misses one big point: The Russia investigation didn't start because of the Trump dossier. It was prompted by the actions of George Papadopoulos, a former Trump campaign adviser.
What could Trump do to him?
The president could revoke Ohr's security clearance, as he has threatened to do in recent weeks. That would make it pretty hard for Ohr to do his job.
To fire Ohr, Trump would have to lean on Sessions, an ostensible Trump supporter in the doghouse for recusing himself from overseeing the investigation into Russian interference in the 2016 presidential election.
Why is this all coming up now?
Conservative media have seized on the Ohr story, implying that the Russia investigation was born out of partisan prejudice. The president's channel of choice, Fox News, is particularly preoccupied with it lately, and Trump has on multiple occasions cited the news outlet's coverage in his tweets.
Thanks to
Sara Boboltz
.