Warner Saunders took an unconventional route to the top anchor chair at one of Chicago's major network affiliate stations, spending his early career as a schoolteacher and then as the executive director of a nonprofit group aimed at improving opportunities for African-American children on the West Side.
He got into broadcasting full time as head of the community affairs department at WBBM-Ch. 2, where he hosted the station's "Common Ground" public affairs show. He moved to WMAQ-Ch. 5 in 1980, already in his mid-40s, and worked his way up from weekend news anchor to become a sports anchor and then to co-anchor the 10 p.m. weekday news.
"Warner was a gentle giant," said Channel 5 meteorologist Brant Miller. "He always carried himself with poise and he was the person you could turn to in the newsroom who always sat back, pondered the situation and had a sense of wisdom."
Saunders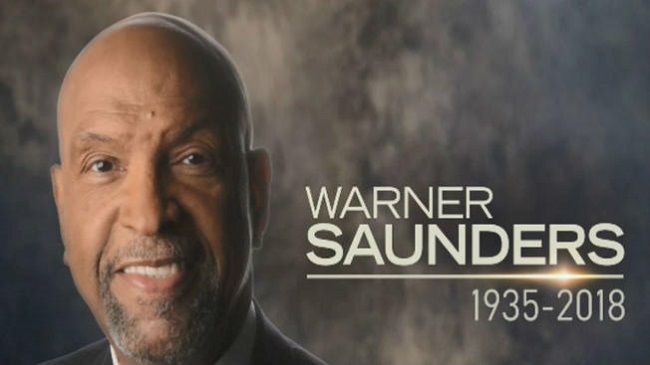 , 83, died Tuesday night after he collapsed and was taken to Illinois Masonic Hospital, according to a statement issued by NBC 5. He had been a Lincoln Park resident.
Saunders grew up in the South Side Bronzeville neighborhood and graduated in 1953 from Corpus Christi High School in Chicago, where he was the teen club president, ran on the track team and worked on the school's yearbook. He earned a bachelor's degree in health and physical education in 1957 from Xavier University in New Orleans, where he played football and basketball.
Saunders became a youth worker and a teacher in the Chicago Public Schools before being appointed executive director of the Better Boys Foundation in the West Side Lawndale neighborhood in 1963. The group had been organized in 1961 to encourage members of juvenile gangs to meet peacefully for recreational activities and counseling.
The job gave Saunders elevated visibility in Chicago, and he made a name for himself by fighting for jobs and better housing in the Lawndale community. In 1968, he was tapped to co-host "For Blacks Only," a weekly series on WBKB-Ch. 7, which now is WLS-Ch. 7, alongside radio star Holmes "Daddy-O" Daylie. The show aired for about two years, and Saunders also began hosting monthly specials on Channel 5 as well.
In 1970, Saunders began anchoring a late-night, 30-minute newscast on fledgling WSNS-Ch. 44, where he was also the part-time urban affairs editor, while continuing his work for the Better Boys Foundation. He also found time to earn a master's degree in 1972 from Northeastern Illinois University's Center for Inner City Studies.
In 1974, Saunders joined Channel 2 and drew raves — and local Emmy awards — for his work hosting the station's "Common Ground" program, where guests included civil rights luminaries including Andrew Young and Jesse Jackson, as well as Dick Gregory and Eartha Kitt.
"He had street cred," said former Channel 2 news anchor Bill Kurtis, who worked alongside Saunders in the 1970s. "He had been there — he came up during the civil rights movement, had played some basketball and moved into broadcasting and fit like a glove. He had good integrity, and good talent, and (viewers) trusted him when he told stories about Chicago, especially. I had a great deal of respect for him."
"(People) come to us for intellectual stimulation, and that's what they get," Saunders told the Tribune in 1977.
Saunders hosted a local Emmy-winning, one-hour documentary in 1979, "The End of the Line." With producer Scott Craig and writer Clarence Page, now a Tribune columnist, Saunders concluded that problems like broken families and terrible schools had worsened in the previous decade, painting an even bleaker picture for youth in Chicago.
In 1980, Saunders jumped to Channel 5, where he began anchoring the news on weekends. He reprised his work on gangs with a special that he co-reported with Carol Marin, titled "Gangs: The New Chicago Mob?" which aired in 1981.
In November 1982, Saunders gave up his news anchor seat to shift to becoming Channel 5's weekday early news sports anchor. In 1989, Saunders shifted back to anchoring the news, this time as the weekday early evening news co-anchor. In 1997, upon the departure of Ron Magers and Carol Marin from NBC 5, Saunders assumed the role of the 10 p.m. news co-anchor, alongside Allison Rosati.
"Warner was a giant in our newsroom," the station's vice president of news, Frank Whittaker, said in a statement. "So many of us relied on his advice and counsel as we covered stories each day. Viewers trusted him. He was genuine Chicago. We've lost a big part of our history today."
Saunders was off the air for a time in 2002 during a bout with cancer. He also had other health issues that kept him off the air for long stretches in the fall of 2008 and the spring of 2009. Veteran Chicago broadcaster Bob Sirott filled in for him during those stretches and briefly succeeded Saunders as Channel 5's 10 p.m. anchor after Saunders retired.
"He was very wise about the business, and the reason that people felt close to him was not only would he give you great advice about work, but he was really a student of life and someone who was very good about advising people on the things that mattered most in life, and most of the time that was not work," Sirott said. "He was a spiritual guy, and you could get on a level with him that was very sort of raw, and he was a good shrink for people. And with him, there was never any static — he was always supportive, always friendly and always helpful. He never got into a lot of the office craziness or gossip."
Before retiring in 2009, Saunders had conducted diversity seminars part time. In retirement, he did more of that work.
"I am very anxious to pursue my passion — diversity education," Saunders told the Tribune in 2008.
Survivors include Saunders' wife, Sadako; and a son, Warner Jr.
Service information was not available.
Thanks to
Bob Goldborough
.